Last year I won a silent auction lot at the Terry Patters Golf Tournament Benefiting Melanoma Research… a Houseboating Trip from Shasta Marina Resort! I had never been to Lake Shasta, or on a houseboat, so this was going to be a new adventure for me. Our cousin Lori won the houseboat trip the year prior, and her family claimed it was the best family vacation ever, so we were ready to give it a spin. My husband had fond memories of summers spent camping with his family of 9 on Lake Shasta, so for him, it was a return to the huge manzanita and squawking blue jays of his youth.
Fishing on the Backbone Arm of Lake Shasta
I wasn't quite sure how you shop, pack and cook for a large group on a small boat in the middle of a lake, so I started doing some research online. I googled "houseboating tips" "houseboating Lake Shasta" etc. and found some helpful guidance, such as: "How many nights could I be locked in a hotel room with these people before I lose my mind?!" Lori also had some helpful hints such as air freshener for each bathroom, with a men's and women's designation. Planning the food would take some effort, so step one was working up a menu. I conferred with our friend Herb who was coming on the trip, he had cooked in the catering kitchen at Wente Vineyards for a number of years, so we got the ball rolling. We finalized our menu with:
Breakfast: 1) bacon, eggs, toast and home fries; 2) whole wheat sourdough French toast and sausage; 3) omelettest; 4) buttermilk and blueberry pancakes.
Lunch: 1) green salad, 2) fruit salad, 3) chicken salad or wraps. We were planning heavy breakfast and dinner so lunch would be light. Or better yet, skip the KP duties, hop in the boat and travel to a marina with a restaurant on the water for lunch and an ice-cold brew. Well, we found out that the restaurants were kind of on the water. With the water level down on the lake, each marina had a steep incline to reach the restaurant and store on dry land. There were shuttles, but we never seemed to catch the shuttle on the uphill trek, only the downhill, so we got our exercise there.
Silverthorn Pizza & Pub on Lake Shasta
Dinners: 1) spaghetti, green salad and garlic bread; 2) BBQ tri-tip, asparagus and corn; 3) buttermilk marinated BBQ chicken, grilled artichokes and beans (originally I was going to make pintos from scratch on board, but I just loaded two large cans of BBQ beans that were quite tasty); 3) Fajitas made with the left over tri-tip and chicken. Herb made the spaghetti sauce in advance and froze it, so that our first night on the boat we wouldn't have to stress over dinner.
Originally my menu included fish, but being on a lake we were unfamiliar with, I crossed those off the list, which turned out to be a good thing. We ended up with only 2 bass, enough for Bob and I to grill for dinner when we returned home!
Fishing for Bass on Lake Shasta
After working up the menu, I started breaking down the items on a shopping list, which was gi-normous. How long were we staying, a month? We split the shopping list up between our four groups, and it actually worked out very well. There are small stores at all of the marinas, so if we were short on something, they had the basics. But if you don't have a small boat in tow, gas is not cheap on a houseboat, don't plan on making too many trips to the store, that dozen eggs could end up costing you $125 in gas!
When camping, I pack up a little carry case of spices and specialty items, so that served us well on this trip. Definitely bring 1 or 2 good knives; you'll need them, along with some lightweight cutting boards. We always had 3 or 4 of us in the kitchen, so the spares came in handy. I filled up on the herbs and spices that I use regularly, salt, pepper, cumin, oregano, basil, Cajun seasoning, cinnamon, vanilla (I found out on the lake that I accidentally brought almond extract instead of vanilla – the French toast came out fine), lots of kitchen towels, ziplocks, scissors, lighter, handsoap, etc. Next time I would bring some Tupperware too.
We arrived at Shasta Marina Resort, and the lake was down, so you drive about a mile down the canyon to reach the houseboats. They provide carts to empty all of your earthly belongings (that's what it looked like, but our helper said our load looked "average" onto a pontoon boat. They deliver you around to your houseboat, which was very handy. I saw a couple of marinas where you were carting your goods for quite a distance to get to the houseboat. The crew gives you a 1-hour crash course in houseboating, and bon voyage!
This boat was an absolute DE-luxe liner! Air conditioning, full size fridge (which we packed to the gills!), dishwasher, trash compactor, gas stove, microwave, blender, hot tub, slide, bar upstairs, BBQ, satellite T.V., this was not roughing it! They provide you in advance with a list of items you should bring, so we were set.
Volcanic views of Mount Shasta and Mount Lassen from the lake
Funny thing, we didn't have any alcoholic beverages on our shopping list, but plenty showed up, and this didn't include the ice chest full of beer.
The wet bar

Since this is a foodie blog I do need to include a couple of simple recipes; sorry, no measurements, this was casual cooking at its best. For our GRILLED ARTICHOKES, we cut the artichokes in half and boiled them for an hour with a dash of vinegar, salt and smashed garlic cloves (our Granny's recipe). After draining, we poured olive oil lightly over the interior half, and sprinkled with salt, pepper, thyme, basil, oregano and some crushed garlic. Place these on the grill, interior half up, for about 5-7 minutes, flip and grill for another 5-7 minutes. No need for mayonnaise with these artichokes, they are full of flavor.
Grilled Artichokes
For ROASTED ASPARAGUS, we drizzled lightly with olive oil, sprinkled with salt and pepper, and covered with a head of finely diced garlic, broiled for about 8-10 minutes, quick, easy, delicious.
The BUTTERMILK BBQ CHICKEN was so moist and tender, and oh so easy. We cut the chickens in half the night before, taking out the backbone, and filled ziplock bags with buttermilk and a couple of tablespoons of my favorite spice mix from New Orleans, Don's Seafood Low Salt All Purpose Seasoning (any Cajun or Creole spice mix will do). The next morning be sure to mix the chicken and buttermilk so all sides are evenly covered, and reseal the ziplock. When you are ready to BBQ, drain off the buttermilk and sprinkle more seasoning on the chicken, and you can drizzle some olive oil over the chicken so it doesn't stick to the grill, and BBQ low and slow for about 1 ¼, 'til the juices run clear. This chicken was finger lickin' good.
Bridgette at the helm with chicken fajitas
For the FAJITAS, I put salt, pepper and garlic powder on the tri-tips in the morning and let them marinade for the day. We BBQ'd the tri-tips to medium for our first meal, so reheating for the fajitas didn't dry the meat out. We cut the cooked tri-tips into ¼" slices against the grain, and those slices into strips, and we shredded the chicken. Our friends had brought a large flat electric griddle (perfect for large quantities of French toast, pancakes and fajitas), so we cooked the beef on the griddle and the chicken in a large frying pan.
We used the same ingredients for both versions. We sliced red and green bell peppers, pasilla (or poblano) peppers, yellow onions and sautéed them in olive oil with cumin and Mexican oregano until soft, adding diced garlic for the last few minutes. We added a small can of diced green chiles, a can of Rotel tomatoes with green chiles, salt and pepper to taste, and a little bit of chicken broth to moisten the mixture, and mixed in chopped fresh cilantro at the end.
Chicken & Beef Fajitas
We served the fajitas on whole wheat tortillas with fresh salsa that our friend Dede whipped up in the blender and GUACAMOLE that included diced avocado, tomatoes, cilantro, green and red onions, finely minced garlic, salt, pepper and garlic powder. To top them off we had fresh chopped cilantro, El Salvadoran sour cream (oh man, you better run down to Mi Pueblo and pick this up!) and some Tajin Classico seasoning (also from Mi Pueblo) that has a zip of lime flavor.

Guacamole, Salsa and Tajin

There is plenty to do in and around Lake Shasta, we found a great single track mountain bike trail at Bailey Cove on the McCloud Arm of the Lake.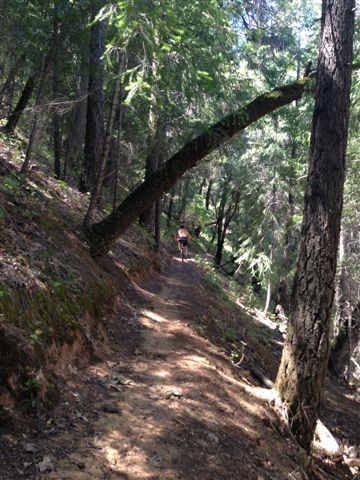 Bailey Cove Trail
And we took a couple of hikes up the creeks and canyons that were absolutely gorgeous – huge ferns, acres of wild blackberries, some beautiful back country waiting to be discovered.
Creeks off the Backbone Arm of Shasta
On our last evening, as with any summer vacation, we had to break out the S'MORES! We were able to pull a campfire permit for free – we only needed a bucket and shovel (which were on the houseboat), and a responsible person (now that was questionable!).
I had watched an episode of The Pioneer Woman with some s'mores variations, so we picked up some Peppermint Patties at one of the marinas, sliced up some strawberries, and we used some light chocolate wafers called Hello Brownie Crisps from Costco and graham crackers for the outer sandwich. Bridgette was our campfire mistress and Lin whipped up the s'mores to order with a variety of combinations, it was a great ending to the weekend.
S'mores around the campfire
By the last morning, needless to say, we were toast; there would be no toast served for breakfast, or blueberry pancakes for that matter! We knew we had to pack and clean up, so nobody was in the mood to make a huge mess in the kitchen and have to clean it up. Our mass of leftover fajitas made for some killer breakfast burritos, on paper plates of course!
Fajita Breakfast Burritos
All in all, this was definitely a memorable vacation, and I would highly recommend it to any family or group of friends (just remember the "locked in the hotel room" when choosing cabin mates!). There's something about literally being on the water 24/7, the break of the waves, the run of the creek, the splash of the fish, the cry of the hawk, you could call it Relaxation 101.
And just in case you are interested, Shasta Marina Resort has generously donated another 4-night stay on their 16-Sleeper Mirage for the 3rd Annual Terry Patters Golf Tournament, taking place August 5th at Poppy Ridge Golf Course in Livermore. Come for dinner or a round of golf and be there to win your next food and fun-filled summer excursion!
Ahoy! Nancy