A flat of peaches from The Fruit Bowl fruit stand
I am so fortunate to live and eat in California! Having moved to San Joaquin County in 1999, I was excited to be amongst the agriculture, which supplies all the fresh fruits and vegetables one could want. Among the top ten commodities in San Joaquin County are: grapes – both table and wine, milk, cherries, tomatoes, walnuts, almonds, apples and asparagus.
Along many of the country roads and highways in San Joaquin County you can find fruit stands. Some of the stands are specific to one crop, but others have many fruits, vegetables, baked goods, and preserves. Fruit stands have been in existence long before Farmer's Markets.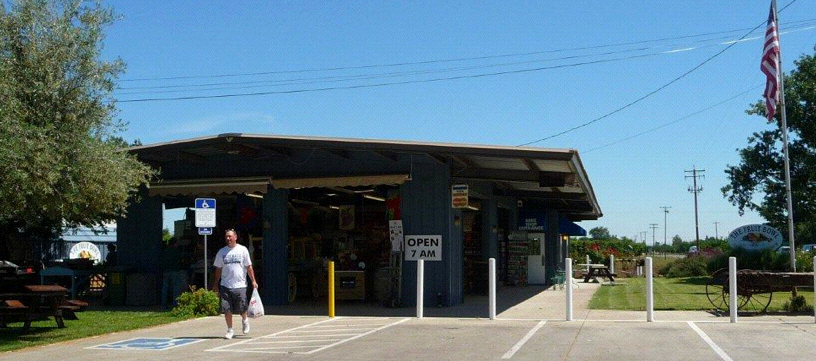 The Fruit Bowl fruit stand
One of my favorite fruit stands is The Fruit Bowl on Highway 88, between Stockton and Waterloo. This one has been in business over 60 years! Today I volunteered to bring fresh baked pies to our family's Father Day gathering. Those of you that know me realize pies are not my forte, but they do have the VERY best pies at The Fruit Bowl, and it is right on my way to Livermore.
Boysenberry Pie
Peach Pie
I ordered a boysenberry pie, which tastes just like Granny used to make, and a peach pie. When I arrived at the Fruit Bowl, the counter was full of pie orders. The peach pie had just come out of the oven and remained warm until it was time for dessert. As I was purchasing the pies, my husband Troy was perusing the fruit stand. He found a flat of peaches, picked fresh this morning that we could not pass up. They were beautiful!
The Fruit Bowl Bakery
Should you happen to be driving along Highway 88, stop by! The Fruit Bowl offers a light lunch, delicious quiche, and gelato among a host of other baked goods. Some of the local wines and olive oils are featured. They have picnic tables in the shade and an air conditioned bake shop where you can eat. This is their 64th year in business – I encourage you to help them celebrate and support San Joaquin County's largest industry – agriculture. Buy Fresh, Buy Local! I've included one of the Fruit Bowl recipes for Peach Salsa that you may find refreshing.
Fresh Peach Salsa
This salsa is a good accompaniment to grilled chicken, pork or shrimp; or mixed with crab meat; or as a topping on bruschetta spread with brie.
Ingredients
2 cups firm diced peaches
3/4 cup diced red bell pepper
1/4 cup diced green onion
2 tablespoons chopped cilantro, or to taste
1 tablespoon sugar
1 tablespoon fresh lime juice
Dash cayenne pepper
Salt, to taste
Directions
In a bowl, gently toss together all ingredients. Best if used the day salsa is prepared. Keep refrigerated. Yield: Approx. 3 cups.
-Susie Calhoun
"An apple is an excellent thing — until you have tried a peach." ~George du Maurier (1834-1896)