It must be the Portuguese blood in me that loves this soup. The traditional Portuguese soup, Caldo Verde, is a bit different than the recipe shared by Ann Perry Mueller. She had made the soup for my parents and they raved about it! When I asked her how she prepared it–the recipe was in her head, not on a recipe card. I wrote it down as she recalled the ingredients with her personal notes, came home and made it.
Caldo Verde or Kale Soup
This super vegetable thrives in the garden with the cold temps. As I read up on kale, I found out that even the ornamental kale you buy to brighten up your pathways can be eaten. Just don't treat them with chemicals!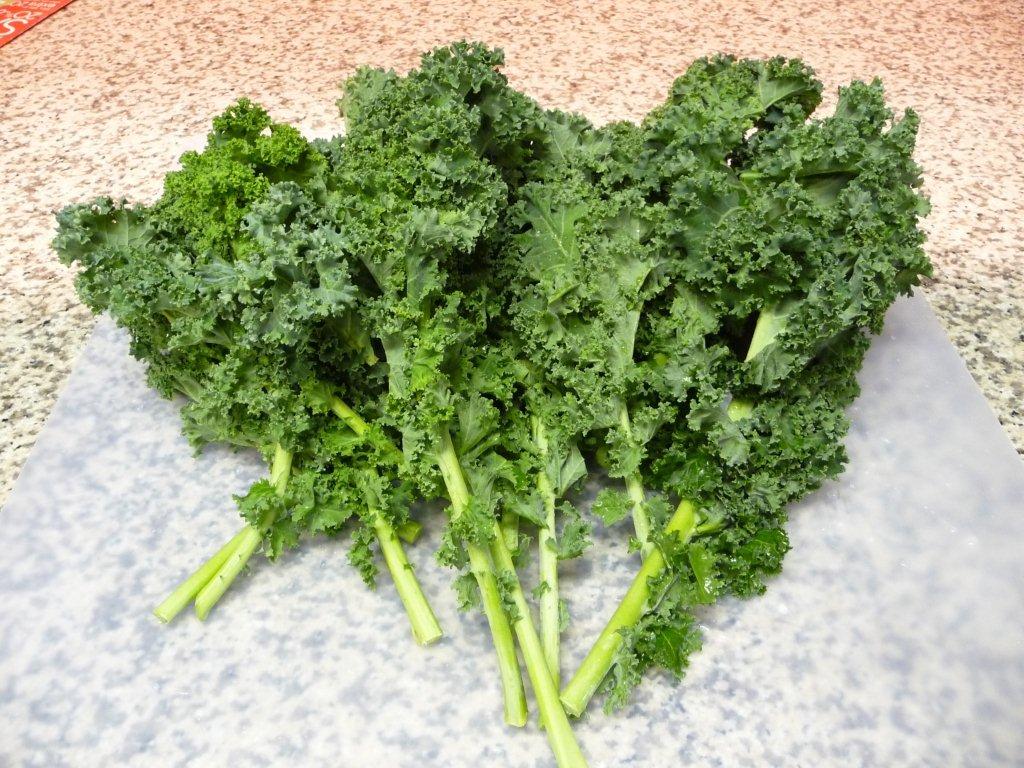 Two Bunches of Kale
On a rainy Sunday, open a bottle of port to put in the soup–save some for yourself to drink while eating the soup! Or should I say, save some for the soup?! It goes great with football too.
Kale Soup
Makes about 4 quarts
Ingredients
2 bunches of kale
1.5 pounds of red creamer potatoes
1 red onion, diced
1 pound linguisa (Portuguese sausage)
2 – 14 ounce cans chicken broth
Equal part (to broth) of Tawny port (consider using the broth can to measure port)
¼ teaspoon cumin (or more to taste)
Pepper to taste
1 teaspoon olive oil
Directions
Boil the linguisa and then peel off the skin. Cut the linguisa into ¼ inch coin size pieces and set aside. In a 6 or 8 quart pot, sautee the onion in the olive oil. Add the linguisa to the sauteed onion. Add the broth and port.
Roll the kale like a cigar from the top of the leaf to the base of the stem. This allows you to keep the tough stem from the soup. You could also chop it finely and add to soup. Cut the kale into thin strips. Add to soup.
Rolling the Kale
Bring to a boil, simmer for 1 hour. Cut the potatoes into quarters, add to the soup, cook until potatoes are tender, approximately a half hour.
Vegetarians can use vegetable stock and eliminate the linguisa.
-Susie-
"Wine makes daily living easier, less hurried, with fewer tensions and more tolerance." ~Benjamin Franklin