Pre-Boarding Cocktails at SFO for my maiden flight aboard Virgin Airlines
If you read my last two blogs you will know that I recently took a trip to Fort Worth, Texas. This trip to Fort Worth held several "virgin" experiences. I had never been to Texas and never flown Virgin America airlines. Virgin America had just begun service to Dallas/ Fort Worth in the past several months. Flying Virgin America was a fantastic experience! My travel partners, Brenda and Robert, and I paid for an upgrade, which was the exit row with more legroom and included free food, cocktails, media, and luggage. The seats were very comfortable and I found the soft lavender colored lighting relaxing. Our flights were on time and our luggage was not lost! (I have not been so lucky on other airlines—especially with the lost luggage part.) We were really excited about this virgin experience, so we celebrated with cocktails prior to boarding.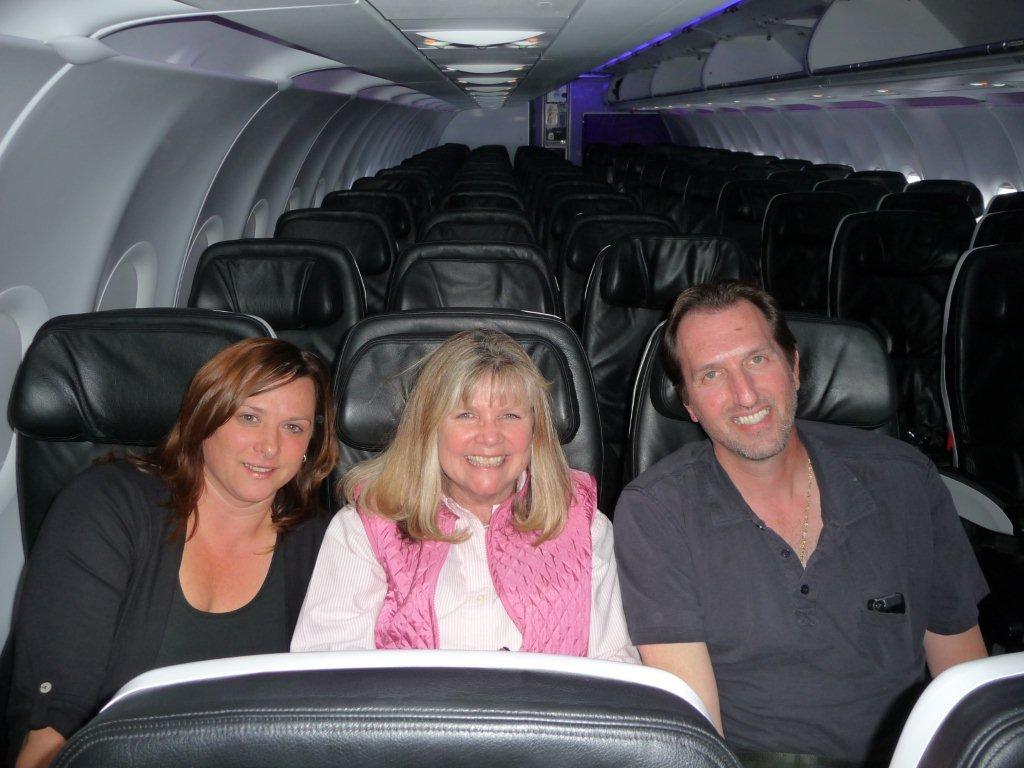 My Travel Buddies, Brenda and Robert, and I
The food on Virgin America was a pleasant surprise. I had a smoked turkey sandwich with bacon and brie stacked high on very fresh wheat bread with a spicy cranberry chutney. Brenda had a curry chicken salad sandwich, unfortunately it had too much curry for her liking. It looked really good though with cranberries, apricots, almonds, honey and yogurt on a nine grain bread. Robert chose the artisan cheese and fruit tray with four different cheeses, dried and fresh fruit along with nuts and crostini.
Another virgin experience was a visit to the Paris Coffee Shop in Fort Worth, Texas. Our hosts, Josey and Rory, really wanted us to go to this restaurant. Paris is a down home coffee shop, with salt of the earth servers. Rory suggested the Taco Boat, a fried flour tortilla topped with hash browns, scrambled eggs, bacon, cheese and a side of salsa. Not the healthiest choice – but hey! It's Texas! I wasn't fond of the processed cheese, but I could see with a few adjustments how it could be much healthier.
The Paris Coffee Shop in Fort Worth, Texas
The Taco Boat at the Paris Coffee Shop
Next virgin experience, Flying Saucer, a beer emporium with over 250 beers. This extensive beer menu so distracted me from the food that I ended up reordering after everyone had been served. The group ordered a variety of beers. I ordered a Breckenridge 471 IPA – tasty and hoppy! Two notable appetizers we enjoyed were the Nacho Grande and the Chicken Quesadilla.
The Flying Saucer Beer Emporium
For the first time I visited The National Cowgirl Museum and Hall of Fame. The museum is a treasure to experience. It is informative and very hands on. The museum not only celebrates the past, but presents the importance of women, specifically cowgirls, in every arena from agriculture to entertainment.
Cowgirl Statue at the National Cowgirl Museum and Hall of Fame
When our Texas experience came to an end, Brenda, Robert, and I flew back to San Francisco via Virgin America, alas not in the upgraded seats. However, the flight was still comfortable, on time, and with our luggage intact. We had our final cocktails of the trip, a Bloody Mary, a Margarita and I had a Berry Mojito – another virgin experience!
Final cocktails: Bloody Mary, Margarita, and Berry Mojito
~Susie Calhoun
Texas does not, like any other region, simply have indigenous dishes. It proclaims them. It congratulates you, on your arrival, at having escaped from the slop pails of the other 49 states.
~Alistair Cooke~